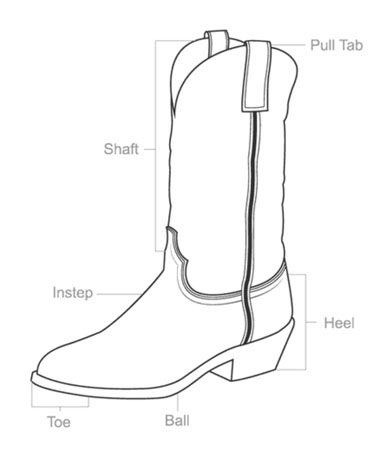 INSTEP
This is a very important part to guarantee the right fit. If the shaft is too narrow, and you have a high instep try a boot with a zipper.
BALL
To give you more stability when you walk, the ball of your foot should fit in between the widest part of the boot. Check, the ball part of your foot, is in the proper place. Otherwise if the toes are to forward into to the front it means the boot is too short for the foot.ahttps://www.agaveblue.com.au/
HEEL
A boot should slip a little in the heel. When you start using a new boot the brand new leather will take a few days to give you comfort and the slippage should not cause discomfort.
TOE
Our boots come in a variety of toe styles, pointy, round, square and snip toe.
SHAFT
Our boots come in a variety of shaft heights. Our shafts have a European fit. The boot shaft should fit close to your shaft with no large gap.
PULL TAB
Pull tabs are used to help slide your foot into your cowboy boots. They are present on all boots that do NOT have a zipper.
Size Conversion Chart
| AU & US Sizes | Euro Sizes | UK Sizes | Inches | CM |
| --- | --- | --- | --- | --- |
| 4 | 35 | 2 | 8.1875″ | 20.8 |
| 4.5 | 35 | 2.5 | 8.375″ | 21.3 |
| 5 | 35-36 | 3 | 8.5″ | 21.6 |
| 5.5 | 36 | 3.5 | 8.75″ | 22.2 |
| 6 | 36-37 | 4 | 8.875″ | 22.5 |
| 6.5 | 37 | 4.5 | 9.0625″ | 23 |
| 7 | 37-38 | 5 | 9.25″ | 23.5 |
| 7.5 | 38 | 5.5 | 9.375″ | 23.8 |
| 8 | 38-39 | 6 | 9.5″ | 24.1 |
| 8.5 | 39 | 6.5 | 9.6875″ | 24.6 |
| 9 | 39-40 | 7 | 9.875″ | 25.1 |
| 9.5 | 40 | 7.5 | 10″ | 25.4 |
| 10 | 40-41 | 8 | 10.1875″ | 25.9 |
| 10.5 | 41 | 8.5 | 10.3125″ | 26.2 |
| 11 | 41-42 | 9 | 10.5″ | 26.7 |
| 11.5 | 42 | 9.5 | 10.6875″ | 27.1 |
| 12 | 42-43 | 10 | 10.875″ | 27.6 |